JeSLIB by the Numbers

Posted by Julie Goldman on 2022-07-07
Check out our infographic which highlights JeSLIB metrics on content, speed, usage, and impact.
About
JeSLIB publishes articles as they become available for publication, following a thorough review process. Articles are collected together into issues throughout the year, with occasional special issues. We have published 183 articles across 22 issues. JeSLIB accepts traditional articles such as full-length research papers, commentaries, and reviews. Our "eScience in Action" category encourages short, focused, and innovative projects, and "Video Articles" allow authors to present their work using multi-media. We have published 86 Full-Length Papers.

Speed
JeSLIB is configured for two reviewers per article with 20 days for review. We utilize an anonymous peer review process, which means that the identities of the authors are concealed from the reviewers, and vice versa, throughout the review process. The average timeline for publication is 64 days from initial submission to acceptance, and 135 days from acceptance to final publication.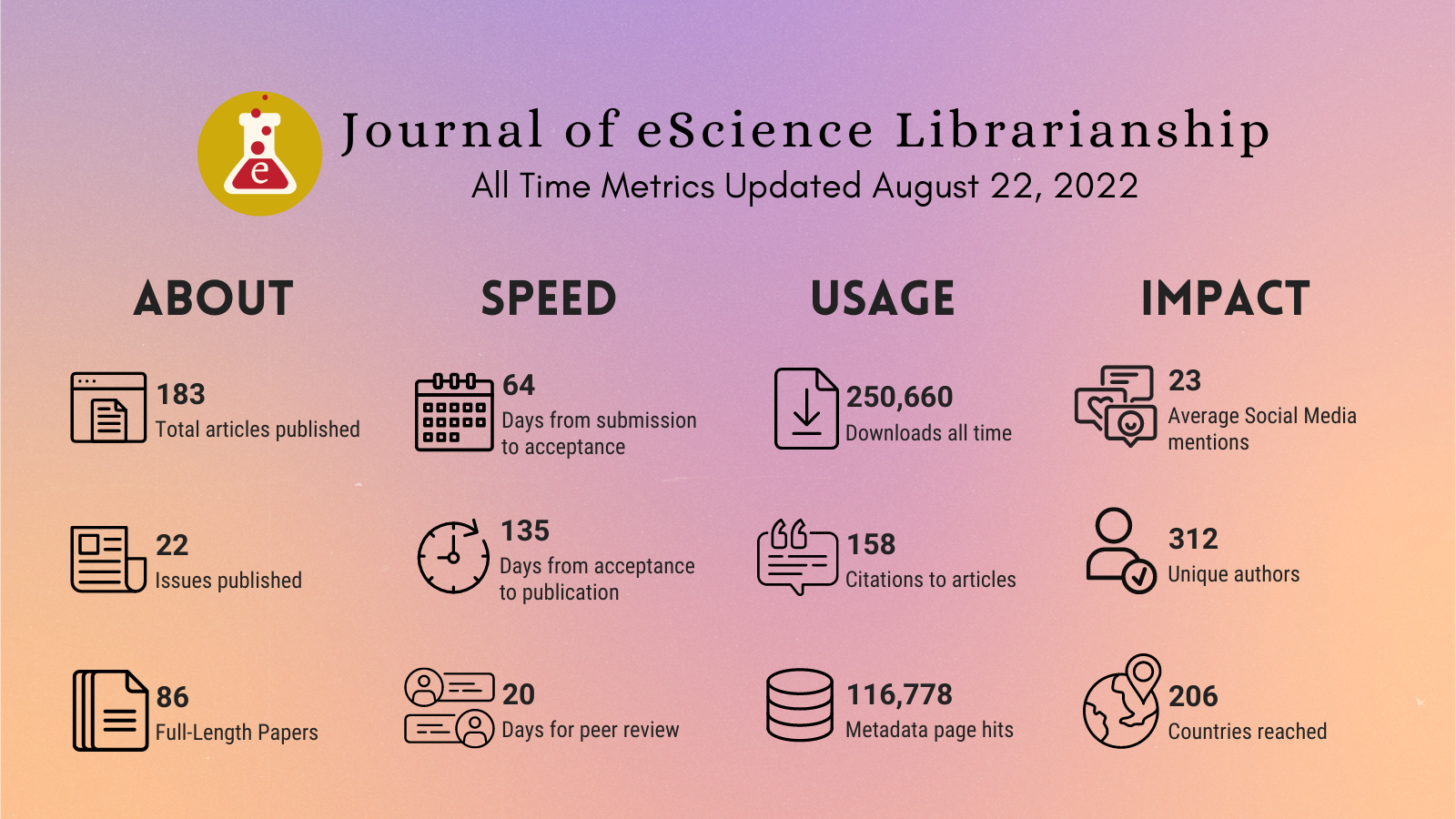 Usage
The first issue of JeSLIB first published in 2012. The journal reached 100,000 article downloads in April 2018, and 200,000 downloads in April 2021. As of August 2022, the journal has 250,660 article downloads, 116,778 metadata page hits, and 158 article citations.

Impact
Articles are read all over the world, reaching 206 countries. Authors also come from around the world. JeSLIB has 312 unique authors, with many publishing multiple times in the journal. Utilizing data from Altmetric and PlumX, articles have an average 23 social media mentions.
The infographic was created by Managing Editor, Julie Goldman. JeSLIB keeps journal metrics updated on a yearly basis.
Tags
Back to News List