Publishing in the Journal of eScience Librarianship

Posted by Julie Goldman on 2022-07-07
Journal of eScience Librarianship (JeSLIB) is UMass Chan Medical School's open access, peer-reviewed journal to advance the theory and practice of data librarianship. JeSLIB explores the many roles of librarians in supporting eScience and welcomes articles by contributors from all areas of the globe related to education, outreach, policy, collaborations, tools, and best practices.
Celebrating 10 years of publishing!
The inaugural issue of the Journal of eScience Librarianship was published on February 15, 2012. The journal emerged as an outgrowth of many eScience projects and meetings that took place in New England. The journal continues as a global effort with Editorial Board members from around the country, and a global readership.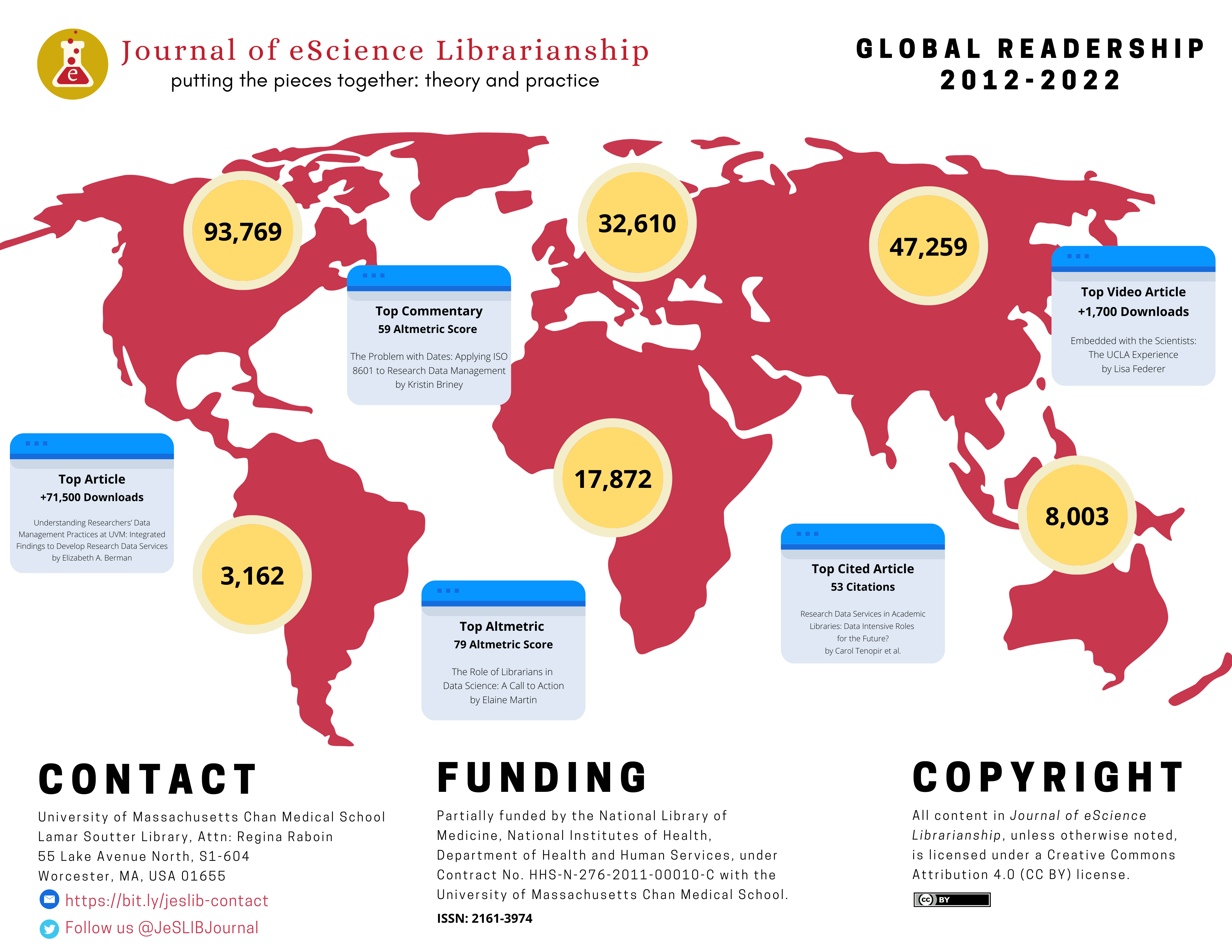 Global Readership Statistics
(as of August 22, 2022)
Top Article: +71,500 Downloads
Understanding Researchers' Data Management Practices at UVM: Integrated Findings to Develop Research Data Services by Elizabeth A. Berman
Top Cited Article: 53 Citations
Research Data Services in Academic Libraries: Data Intensive Roles for the Future? by Carol Tenopir et al.
Top Video Article: +1,700 Downloads
Embedded with the Scientists: The UCLA Experience by Lisa Federer
Top Commentary: 59 Altmetric Score
The Problem with Dates: Applying ISO 8601 to Research Data Management by Kristin Briney
Top Altmetric: 79 Altmetric Score
The Role of Librarians in Data Science: A Call to Action by Elaine Martin
Tags
Back to News List